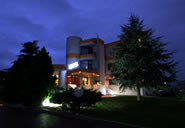 Hotel Select
four star (business), located just a few seconds away by car from the impressive industrial are of the Val di Sangro, it is in a strategic position for whom is serarhing a privileged business class enviroment, our pur pose is to offer hostitality and comfort that will ake you feel a protagonist.
The symbiosis between space and furniture accurately selected, our top services that guaranty the maximum quality, conciliates visual and quality impact, essential elements in a receptive business class structure.
The
Hotel Select
was inaugurated in august 2007, it was created to satisfy all the needs of a business class client, ensuring all our clients the best services and comfort possible.
Every room is structured and furnished in a different way, therefore the hotel is a unique, modern and innovative complex.
The bathrooms are distinguished for there extensive space therefore fulfill all needs of our clients for a comfortable and relaxing enviroment.